Need some help on your creative journey?
Every week, I send out free advice to 20,000 creatives just like you.
We all know creativity isn't always sunshine and rainbows, right? We hit the wall, ideas dry up, and self-doubt drops by for a visit.
But, don't worry, with 25 years of writing and a dozen books to my name, I've got plenty of ideas to help us power through.
Join me as I share my real, raw experiences and how I navigate through them. We'll chat about building creative habits, wrestling with that pesky inner critic, managing life's curveballs, and generating killer ideas.
My goal is to help you realize your amazing creative potential and to clear the crap that is getting in the way of having an authentic, creative life.
Your inbox is sacred—I get it. So, I'll keep it simple, engaging, and hustle-free.
Sign up, and let's get to it.

I'll send you this free ebook too!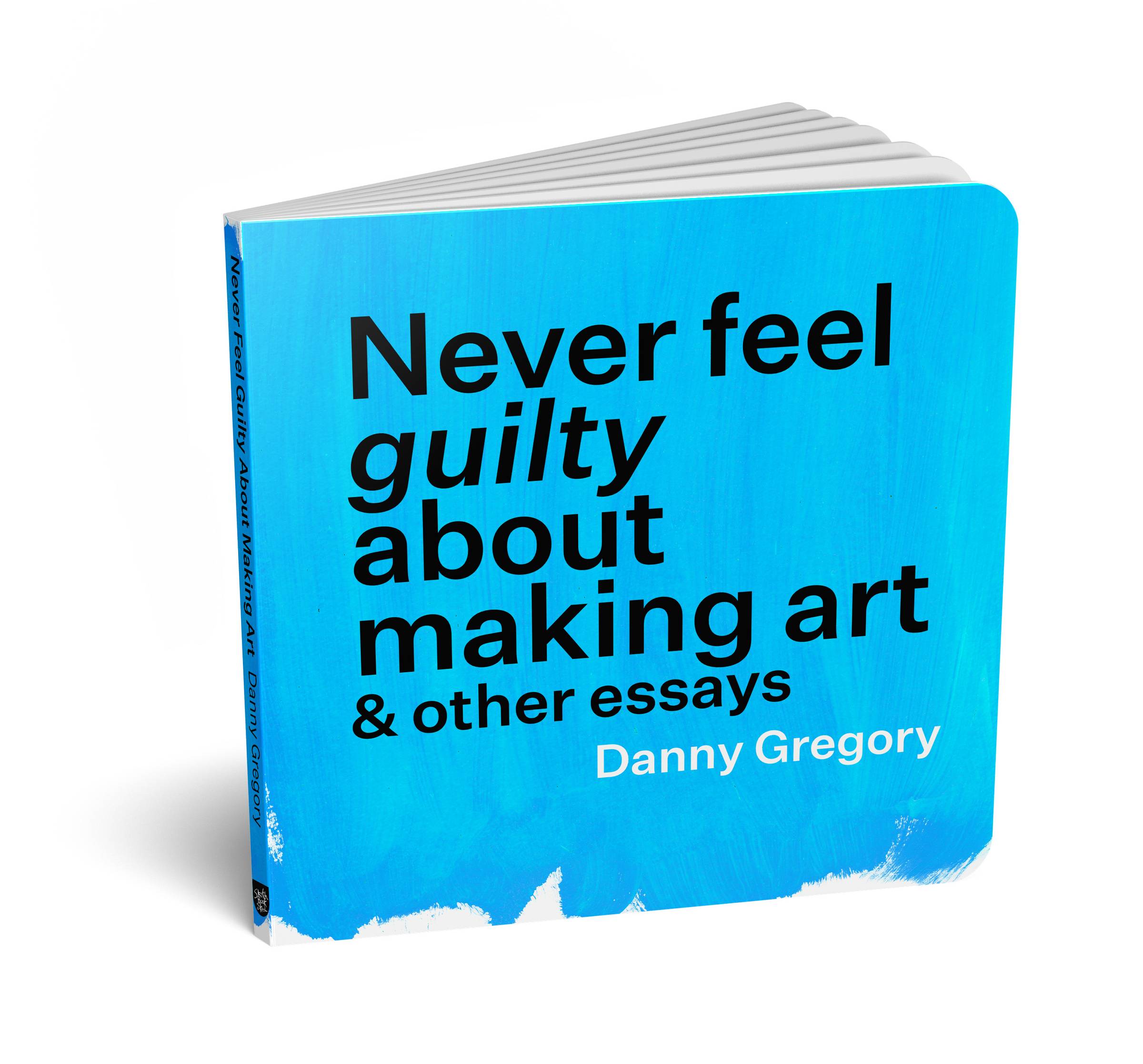 What 20,000+ readers say:
Your ideas bring so much comfort and confidence! — Kaelig C.
I subscribe to Danny's Essays because they show me that I'm actually already an artist NOW, not at a later date when I'm "better" at drawing or painting. He leads by example with his trademark gentle, self-deprecating humor that nevertheless, often zapped me right between the eyes with its perceptive wisdom. — Christl M.
Danny's essays encourage me to create even when I don't feel creative or when I doubt I have artistic talent. — Joy P.
As we strive to live in the land of healthy habits, Danny's Essays offer a welcome hand to lift you up. Similar to going regularly to the gym or taking a daily walk, Danny encourages us to draw, as often as possible! His examples encourages anyone, regardless of where they are on their creative journey, to just pick up a pencil and have some fun with it. — Patricia C
You capture the otherwise mundane life in your essays as something very exciting, wonderful and something to look forward to every waking minute. Your daily struggles over the years is proof that every artist has to overcome his own critic to excel in his field. — Anu A
I'm so grateful for Danny's essays. Always on point, encouraging, and with sparks of delight, they always touch my artist's heart and remind me to continue making my art my way and to keep going. A treasury of these essays is just that - a true treasure. Thank you, Danny, for writing them! — Lori W.
Danny's weekly candid reflections, humor, and encouragement inspired me in ways he could not have predicted, and I had not imagined. The joy of setting my creative self free is indescribable. It can't be put back "in the box." From the depths of my heart, thank you, Danny. — Alene B
"Danny's Essays are like getting a letter from a good friend who is not only wise but also funny. They always seem to be just what I need to keep me going creatively." — Linda P
Danny's essays banish that Bad Monkey of guilt and fear of judgment. No failure, just opportunities to advance your artistic experience. — Daria G
We all know what we need (practice) to draw well- but it helps to read Danny's gentle words reminding me that I can extend kindness to creative endeavors and the day. Mr Gregory has taught me to breathe and enjoy the process as much as he's taught me to draw. — Amy J.
I'm definitely looking forward to your book, I'll be sure to give a few as gifts! I'm a big fan of your essays, it's usually just what I needed to hear…just at the right time! Love your work, man — Vicki D
Danny's Essays help remind me that I'm not the only one who goes through the doubt and the fear, and something about the way he writes helps me look at my setbacks as part of the process. Thank you, Danny, for your down-to-earth wisdom. — The Heron Now
I am deeply grateful to Danny for sharing his personal creative journey in this collection of essays. His honest and inspiring exploration of drawing, especially his reflections on the value of keeping sketchbooks and of self-compassionate self-critique, has not only helped me find my own artistic voice but has also better equipped me to guide my students in discovering their own. This book is a true gift for anyone seeking authentic fulfillment and self-expression through art. — Dan W.
I've been a subscriber since the beginning of Danny's Essays. These motivational essays give me pause, make me laugh and make me feel like Danny is speaking directly to me. — Monica M.
I just wanted you to know what a lifesaver your essays and videos have been to me. I sit here at my husband's bedside as he goes thru his last few days of life. You gave me permission to finally begin "playing" freely with my numerous blank sketchbooks. I no longer feel they have to be perfect. I can sketch anywhere. I don't need hours dedicated to it. It is ok to just sketch my foot, a salt shaker, etc. You freed me and my creativity which then brought me JOY in this darkest hour. Thank you so much. —Kathy G.
Danny's essays are a compilation of an extraordinary life, an art-filled business, common sense, and self-denigrating humor. Overall, I read him because he is just a hoot! — Carollee F.
Your essays and your books give us permission to be the creative people our hearts are yearning to be. You have taught me personally that filling sketchbooks is like writing a love letter to myself, telling me that this part of my soul needs to be nurtured and loved. I have always been an artist, but you have helped me to approach my creative process with my whole heart and not just part of it, and to be true to ourselves. — Janis M.
The most important thing that Danny's Essays taught me is this: that a filled sketchbook is an end in and of itself. A filled sketchbook is both a portable art gallery and a snapshot of who I was at the time. That's the biggest influence on my art, and it will continue to do so. — Garrett
I enjoy the weekly essays very much! I read every little (or big 😁) word hearing your voice in my mind, recreating every inflection and picturing your smile. You look and sound like a super cool uncle, the one that encourages you to try and be as cool as him 😎 i swear that i wait every friday to see your name in my inbox 😇 Thank you for being my exquisite and captivating virtual uncle - who's a hell of an artist 😉❤️🌻 — Claudio G.
I can never resist Danny's weekly essay, even when I'm rushed off my feet. They hide so many pearls of wisdom and never fail to make me smile and laugh. I've even cried and raged, sharing Danny's highs and lows. Thank you, Danny for being so open; thank you for never failing to make me react. Thank you for the weekly inspiration, for the way you poke my thoughts and make me reach for my sketchbook. Thank you. — Lisa S.
Danny's perspective on drawing and encouragement to continue no matter what it looks like, see it through 'til the end, has opened my eyes and heart to the beauty of creativity at any level. I am a proud mediocre artist who sometimes is shocked by a piece I have made that I may have never completed without his piece on perfectionism. Thanks, Danny — Kathy Y.
The first Danny's Essay I read stated that if you make art, you are an artist. I am a poet who, of course, has self-doubt. His essay encouraged me to believe that if I write poems, I'm a poet. Now I write every day, knowing I have that freedom. — Christine Y.
I have all of Dannys books, and when I found out he was writing another one, I knew I wanted it! All of his books are so full of inspiration and his knowledge and experience with art. The illustrations are always so colorful and lovely to look at, and his books are really fun to read. I am a subscriber to Danny's Essays, and it is something I look forward to every Friday. I feel inspired to keep practicing my art because of Danny! I subscribe to a handful of artist/creatives emails, and his is by far my favorite! Give it a try... you won't be disappointed! — Diana P.
As a long-time subscriber to Danny Gregory's essays, I benefit from his thoughtful perspective on creativity, art making, and the human experience. His personal narratives encourage me to self-reflect on my own practice and embrace my artistic journey, both as a visual artist and writer. Through the essays, I feel connected to a community of like-minded creators while benefitting from seeking beauty in everyday life. — Cindy M.
Danny's Essays bring me a little good cheer every week. It's a good-natured share from a sensible, likeable neighbour. Call it 'achievable inspiration', if you like, but it's kindly, unfussy and gentle - who wouldn't enjoy that kind of encouragement? — Patti G.
I can see myself in so many of Danny's experiences. His essays describe the roadblocks I face as an older person & newer artist and also introduce me to ideas that get me thinking and creating in new ways. His essay about how he draws self-portraits gave me the courage to just keep drawing faces even though I'm not good at that…yet, and the realization that my drawings don't have to be pretty to be meaningful. — Debbie A
When I was deciding on a career path, everyone continued to tell me that I couldn't paint and study science at the same time. 'Why not bring your many interests and talents together to create one sparkling diamond?' was a new way of thinking that stopped me from giving up on my passions! I'll be forever thankful to Danny for his essays, which help keep me going! — Mosarrat Z.
What will you say?
​
​